Services
At SCG, our primary objective is to deliver the services to the total satisfaction of our clients. Developing partnerships, sharing information, commitment to success, and delivering excellent services with integrity and technical expertise is what we pride ourselves on.
Many companies are discovering new, larger, and more demanding applications and systems to increase the availability and performance. Businesses need a robust IT infrastructure to increase the power and availability of systems and database servers. Customers need to enable all the transactions to complete securely with high availability from end to end in real time, without human intervention.
Our Consulting Services are designed to minimize risk and accelerate your return on investment during your entire technology project – from concept to production and beyond.
Following are the services we offer and what your agency can expect from our offerings
Software and Systems Development
SCG has delivered transformative custom and COTS software solutions to meet the mission needs of our federal customers for over 10 years. Our collaborative thought leaders leverage the most current software practices, architectures, and technologies from industry and tailor them to meet the challenges of exponentially expanding data, distributed mobile workforces, critical mission requirements, and continuously shrinking IT budgets. We specialized in systems development, systems administration, optimization, performance tuning, and support for Sun Solaris, HP-UX, IBM-AIX, Linux, and Windows platforms.
SCG has excellent skills to build mission critical multi-tier architecture and web-based application systems using J2EE and .NET technologies. We deliver transformative software solutions in support of missions that help ensure the health, well-being, safety and security of our nation. Our collaborative thought leaders leverage the most current software practices, architectures, and technologies from industry and tailor them to meet the challenges of exponentially expanding data, distributed mobile workforces, critical mission requirements, and continuously shrinking IT budgets.
We use a rational approach for IT methodologies, which helps organizations in dealing with changing business needs. Our System development services flawlessly integrate applications across different platforms and technologies, which help in enhancing the productivity and profitability of the global clients thereby increasing their ROI.
Our team has expertise in diverse technologies and is backed by experienced technical and functional consultants as well as certified product experts.
System Deployment involves the execution of the deployment plan and includes implementation of the system in the target production environment, software configuration, data conversion and user training. SCG supports develop, operate, and maintain your critical systems with services such as:
System Development and Enhancements
System Integration and Deployment
Technical and Application Architecture
System Operation and Maintenance
Database Support Services
Database Support services is our core area of technical support. SCG has extensive experience in database management systems such as Oracle, DB2, Sybase, and MS SQL Server. The services include database design, modeling, implementation, performance tuning, administration and support for high availability. We also provide design, development and deployment solutions for data warehouse, data marts and business intelligence using latest tools and technologies.
SCG has proven record of automate, manual and repetitive tasks with database administration tools for managing instances, storage, database security and allows organizations to focus on monitoring performance and correcting databases. Database administration is vital for effective operations of any organization. A distributed and extendable database management architecture boosts overall organizational efficiency by streamlining any number of cross-disciplinary processes rather than a single, vertical process.
Data Warehousing
Data warehousing integrates data from one or more sources into a single data repository for reporting and data analysis. SRA's long history of data warehousing experience includes the Department of Justice Trustees Program, where SRA rapidly designed, built, and deployed a data warehouse that integrated data from 30 source applications and databases.
Data Mining
Data mining discovers patterns in large data sets, largely through statistics and machine learning. SRA uses advanced data mining tools and techniques to help our customers increase their data exploration capabilities and apply the outputs to meet their most pressing mission needs. Our subject matter experts are experienced in data mining, machine learning, artificial intelligence, algorithm research and development, statistical modeling and analysis and database literacy.
GIS database support
SCG has extensive experience in developing and using their knowledge of contemporary database theory to design databases that are highly responsive to each organization's needs and fully integrated with its ArcInfo applications, external models, and system operations. Our design strategies involve Comprehensive GIS capabilities will be provided to support a broad range of server GIS requirements. For example, server GIS can be used for Managing large GIS databases Internet delivery of geographic information.
Distributed GIS computing (such as distributed GIS data management and analysis)
Internet delivery of comprehensive GIS functionality
GIS System design and engineering
GIS database design and development using ArcSDE, Oracle, SQL server GIS Application system design
Enterprise application frameworks including Java J2EE and Microsoft .NET to integrate GIS with numerous information system technologies and computing standards.
Use of proven and repeatable processes that leverage industry best practices to deliver high-quality, low-risk data collection and management solutions and services
Web Design and Software Development Services
At SCG our goal is to establish long- term customer relationships based on trust and a commitment to produce best website design and web development. We can help our clients understand how Web 2.0 tools such as Rich Internet Content, social networking and mashups can deliver more user-friendly applications and boost business productivity through collaboration. We understand that our success depends on our clients and that is why the success of their business is our highest priority.
Economical and User friendly web design and development services
Design and develop Template using Adobe Photoshop, Dreamweaver and InDesign for agency specific requirements
HTML generation via the templating engine can be automated
Business logic can be incorporated into Presentation Templates
Professional Web Site Design & Development Services
Database driven website development using Oracle, MySQL and SQLserver. Create best possible solution for your needs based on vendor supported web design methodologies
Create HTML content pieces and Templates.
The Data Capture Templates (DCT) and XML file fields that will be displayed on a web-based form for user input.
Cloud Computing
SCG delivers comprehensive cloud solutions aimed at assisting federal agencies in obtaining the benefits of cloud computing while avoiding or mitigating its associated risks. SCG employs an overarching approach to cloud computing aimed at providing support services to our customers throughout the cloud lifecycle. This approach adheres closely to industry proven service orientation and service management best practices such as ITIL® 2011 and ISO® 20000. While SCG is not a Cloud Service Provider, we have the needed solutions, knowledge and partnerships to serve our customers as a cloud enabler. Our cloud computing solutions can help federal clients to address budget pressures by reducing infrastructure overhead and enhance service delivery. The reasons to move an organization's IT infrastructure partially to cloud environment is:
Better manageability
Global access
Reduced operational and management costs
With cloud migration, an organization can move their data, applications, and services from on-site premises to the cloud consisting of various cloud service providers, thus offloading the management and availability responsibilities to the service provider. We follow a comprehensive strategy, focused plan and proper deployment for a successful migration. We execute the process of cloud migration by:
Analyzing the challenges and risks before moving to cloud platform
Evaluating the existing infrastructure and software to determine which system is best-suited for the cloud
Identifying applications that can be more valuable by moving them to the cloud
Identifying the cloud service provider best suited for the customer's service needs
To undertake the shift to a cloud environment. Agencies must:
Assess their cloud readiness
Evaluate a variety of cloud computing deployment and service models
Understand the security, privacy and procurement considerations
We support our customers to assess the technical viability of moving existing environments from a traditional IT model to a cloud-based model. Our assessments include conducting reviews of the availability, maturity and completeness of resources as well as the steps needed to fill any discovered gaps. SCG subject matter experts offer the ability to perform independent FedRAMP assessments as part of a cloud system audit process and provide a security assessment package to ensure that the selected hosting environment is FedRAMP compliant.
SCG is well positioned to help our customers contextualize their current IT environment and recommend an optimized cloud computing roadmap for long term success.
Big Data Technologies
Federal agencies picking up Big Data as a feasible and reliable source for business insights in large enterprises. SCG has a growing Big Data practice that delivers exceptional value to Clients by enabling analysis and processing of vast quantities of data in a reasonable amount of time, which allows Clients to discover new business opportunities and efficiencies within the organization. Big data refers to very large amounts of data being produced on the Web and by sensor, monitoring and machine systems along with the systems and technologies used to integrate and analytically explore it. Big data can be discussed from a technical view of frameworks and technologies, and from a business perspective of its uses and value to organizations. As it matures, big data is emerging into the context of information and data management already used in organizations
Better Decisions and Better Government: SCG's Big Data Insights, which include Business Intelligence, Predictive Analytics, Strategic Consulting and Data Analytics Training, make information actionable – delivering better insight, for better decisions, and better performance.
Business Intelligence and Predictive Analytics play a critical role in government operations. Many agencies are awash in data, but without effective analysis, this data is useless. With the right analytical tools and services from DMI, insight and value can be extracted—driving advances in research and scientific discovery, improving quality of life, and enabling more efficient use of financial, human and natural resources. And Business Intelligence and Predictive Analytics can enhance efficiency and productivity in both the public and private sectors.
In a nutshell, Big Data Insights can enable better government, foster the public welfare, and enhance U.S. leadership on the global stage.
SCG has a profound understanding of the challenges faced by the Government and has become a trusted partner, driving mission success.
Partnering on a relational level with every client to deeply understand their business
Hiring the best and brightest analytical minds and technical architects
Going above and beyond in our delivery and service to clients
Turning static, transactional data into a gold mine of insightful, more useful information that supports the execution of your strategy
Our GSA STARS II contract vehicle is best task order tool to start with low risk projects right away.
Project Management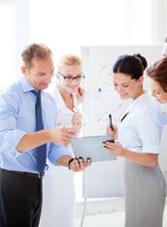 SCG provides Project Management services using proven processes, tools, and techniques to achieve on-time schedules and within budgets. We provide project management from inception to deployment in web-based applications, enterprise application and business-to-business integration using structured and/or object-oriented methodologies. Our project managers have PMI Project Management Professional Certification and over 10 years of project management experience.
SCG Project Management services includes:
Mitigate implementation and management risks of enterprise projects
Accelerate financial returns and increase IT productivity
Reduce your overall cost of ownership during the entire project, including post-production
Get the most from latest technologies with our consulting services that complement your product selection
Make the best use of the technology and high degree of cost certainty
Complete satisfaction of the customer with respect to quality, budget compliance and timeliness.
Get built-in information transfer to the project staff
Our services are designed to help our clients to generate revenue, reduce costs, and access information necessary to operate their business on a timely basis.
Technical Training Services
Identifies training requirements and to obtain, develop or conduct training programs throughout the life cycle of a system, application or product. Specific requirements may include:
Develop training plans, manuals, and other documentation
Conduct training on the entire spectrum of IT systems
Incorporate Electronic Training Tools
Today's job market offers a variety of flexible work schedules to fit your career goals. Whether you are seeking to supplement your income or move into a career position, we can locate the position that is right for you. Whichever opportunity you are seeking, apply online or contact SCG Resource today for more information.

Contact Us
To gain more in-depth information about the IT services that we offer, please contact us via our web form or by calling 703-599-7156 today.
Herndon, Reston, Richmond, McLean, Silver Spring, Baltimore, Washington DC