Contract Vehicles
Streamlined Technology Acquisition Resources for Services
8(a) STARS II is a multiple-award, indefinite-delivery/indefinite quantity (IDIQ) contract engineered to provide cutting-edge technology solutions from award-winning 8(a) small businesses to federal agencies. Using 8(a) STARS II will enable you to access 8(a) firms through an established contract vehicle instead of traditional, open market methods – saving time and money. The 8(a) STARS II GWAC is designed to promote small business utilization when purchasing information technology (IT) services or IT services-based solutions for the federal government. The 8(a) STARS II program is reserved exclusively for qualifying certified 8(a) small business concerns as the prime contractors per Federal Acquisition Regulation (FAR) 19.8.
SCG provides various services in the federal and municipal markets, including Information Technology, Compute Systems Design Services, Custom Computer Programming Services and Other Computer Related Services. By employing and contracting an outstanding group of skilled professionals and having immediate access to other proven experts, SCG is extremely scalable in meeting demanding tasks in a timely, professional and cost-efficient manner. SCG has the focus and expertise to create complete technical solutions and has the depth and experience to respond and execute.
Our 8(a)STARS II constellations includes all four functional areas designated by the North American Industry Classification System (NAICS).
541511- Custom Computer Programming Services
541512- Computer Systems Design Services
541513- Computer Facilities Maintenance Services
541519- Other Computer Related Services
Benefits to Federal Clients
Availability and access to certified small business and 8(a) technology providers.
Support small and disadvantaged businesses and meet procurement preference goals.
Pre-competed easy to use contracts
With pre-qualified vendors procurement lead time is shortened.
Low user fee (0.75 percent) built into contractors' ceiling prices.
Small Business GWAC Center provides Information Technology (IT) specialty contract administration.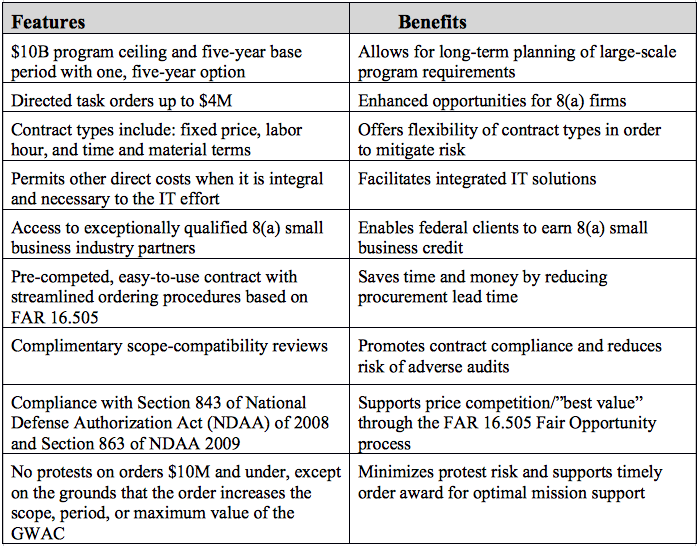 8(a) STARS II Program Manager
Contact:
8aSTARS2@systemsconsulting.net
More information : http://www.gsa.gov/portal/content/105243
Seaport-e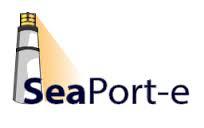 SeaPort-Enhanced
Available to: NAVSEA, NAVAIR, SPAWAR, NAVSUP, Military Sealift Command, Strategic Systems Program, NAVFAC, Office of Naval Research, U.S. Marine Corps
Contract Type: Multiple Award IDIQ
Contract Order Types: CPFF, CPIF, CPAF, FFP, FPIF
Contract Ceiling: $58 Billion
Program Description
NAVSEA established the SeaPort Office to provide a faster, better and cheaper means in which to procure Professional Support Services. The SeaPort-e contract enables the Navy to meet that objective and allows for tailoring of services according to the needs of geographically dispersed
organizations with significantly diverse product area requirements and missions. The contract is the Navy's platform for acquiring support services in 22 functional areas including Engineering, Financial Management, Program Management, and all phases of Weapon Systems Acquisition and Life-Cycle Support.
Contract Number: N00178-09-D-5825
Period of Performance: December 2008 – December 2018
Prime Contractor: Systems Consulting Group, LLC
SCG executes contracts with approved DCAA compliance accounting system.
Scope of Work
The scope of SeaPort-e includes:
Research and Development Support
Engineering, System Engineering and Process Engineering Support
Modeling, Simulation, Stimulation, and Analysis Support
Prototyping, Pre-Production, Model-Making, and Fabrication Support
System Design Documentation and Technical Data Support
Software Engineering, Development, Programming, and Network Support
Reliability, Maintainability, and Availability (RM&A) Support
Human Factors, Performance, and Usability Engineering Support
System Safety Engineering Support
Configuration Management (CM) Support
Quality Assurance (QA) Support
Information System (IS) Development, Information Assurance (IA) and Information Technology (IT) Support
Inactivation and Disposal Support
Interoperability, Test and Evaluation, Trials Support
Measurement Facilities, Range, and Instrumentation Support
Logistics Support
Supply and Provisioning Support
Training Support
In-Service Engineering, Fleet Introduction, Installation and Checkout Support
Program Support
Functional and Administration Support
Public Affairs and Multimedia Support
Contact Us
For more information regarding our governmental IT consulting services, we encourage you to contact us via our web form or by calling 703-599-7156 today.
Herndon, Reston, Richmond, McLean, Silver Spring, Baltimore, Washington DC